Our Blog
Posts for tag: dental implant
By Dentistry by Design
October 23, 2019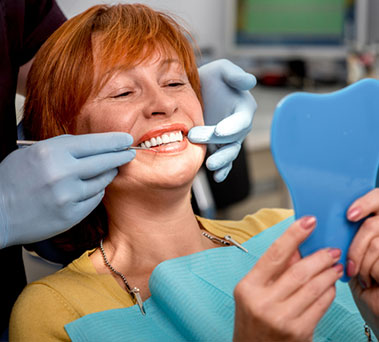 When you hear the word "surgery," your first thought might be of a high-charged operating room with a surgeon operating intently as a nurse mops sweat from their brow. While there are high-stakes surgeries, most aren't quite that dramatic.
Dental implant surgery falls into the latter category. It does qualify as a surgical procedure because we make incisions and tissue alterations for the implant. But it's no more rigorous than a surgical tooth extraction.
Still, if you're new to implant surgery, it's natural to feel some apprehension about it. To calm any nervousness, here's a rundown of what to expect before, during and after the procedure.
Pre-Planning. Implant surgery is usually a routine affair because of meticulous planning beforehand. Often, we map out the implant site using CT scanners or other high-level imaging, identifying obstacles like nerves, blood vessels and sinus cavities, verifying there's enough bone present to support an implant. With this information we can create a surgical plan or guide for placement in the mouth to accurately situate the implant.
Site Prep. On the day of the surgery we'll first administer local anesthesia to numb the entire work area to pain. We'll start with a few small gum incisions to expose the bone. Then using the surgical plan or guide, we'll create a small channel for the implant with a drilling sequence that successively enlarges it until we achieve the best fit for the implant.
Implant Placement. Once we've completed drilling the channel, we'll remove the implant from its sterile packaging and install it in the channel. After we've made any necessary adjustments and verified proper placement with x-rays, we'll suture the gum tissue back into place.
After the Surgery. You might experience mild to moderate discomfort afterward that's usually manageable with over-the-counter pain relievers like ibuprofen or acetaminophen. We can, if necessary, prescribe medication if you require something stronger. We may also prescribe an anti-bacterial mouth rinse for a short time to reduce the risk of infection.
After the implant has integrated with the bone which usually takes about 8-12 weeks, we'll install your life-like crown or restoration. Your new smile and improved dental function will be well worth the process.
If you would like more information on the process for obtaining dental implants, please contact us or schedule an appointment for a consultation. You can also learn more about this topic by reading the Dear Doctor magazine article "Dental Implant Surgery."
By Dentistry by Design
September 03, 2019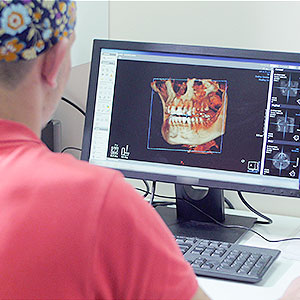 Compared to other dental restorations—a few of which have been around for over a century—implants are a relatively recent development. But even though it's just now entering its fourth decade, recent advances have catapulted implant therapy well beyond where it began.
That's due mainly to digital technology. Two examples of this, computed tomography (CT) and 3-D printing, are increasing the accuracy and efficiency of implant placement.
Properly placing an implant is one of the most important elements in achieving a natural and attractive result. But finding the best location is often difficult due to a lack of suitable bone volume, the patient's bite or the proximity of anatomical structures like nerves and blood vessels. CT imaging, especially Cone Beam CT scanners (CBCT), is helping to make implant placement planning easier.
Unlike the static, two-dimensional views of standard x-rays, CBCT takes hundreds of images and digitally blends them together to create a virtual 3-D model of the patient's jaw and face. Dentists can view this highly detailed model on a computer monitor from various vantage points and better identify possible obstructions. With better information about what "lies beneath," they can more accurately pinpoint the best implant site.
Creating the ideal plan is one thing—successfully implementing it is another. Dentists often create a surgical guide that helps them drill in precisely the right positions during surgery. The guide, which resembles a mouthguard, fits over the gums and contains marker locations for drilling.
Many dentists are now using 3-D printing to create these surgical guides. A 3-D printer turns a digital model of the guide based on measurements of the patient's mouth and proposed implant locations into an actual physical object "printed out" layer by layer of special polymer material. The end product can be more precise than guides created by other means.
These and other technological developments are helping implant therapy rise to a new level of success. With the resulting increase in accuracy, efficiency and less treatment time, tomorrow's implant patients will be the ultimate beneficiaries.
If you would like more information on restoring missing teeth with dental implants, please contact us or schedule an appointment for a consultation. You can also learn more about this topic by reading the Dear Doctor magazine article "How Technology Aids Dental Implant Therapy."
By Dentistry by Design
June 15, 2019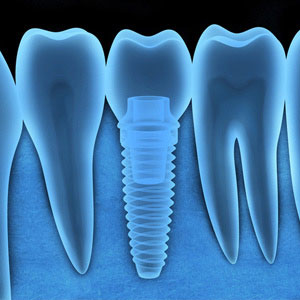 If you know anyone with a dental implant, you may know it can be a long process in getting one. Several weeks or months can pass between removing the old tooth and placing the implant, and then several more weeks before affixing the permanent crown.
But with recent advances in implant technology, some patients don't have to wait as long for a new implant and crown. In fact, one procedure commonly known as "tooth in one day," allows patients to walk in with a problem tooth and out the same day with a new "one."
Not every implant patient, however, can undergo this accelerated procedure. If you're considering implants, the state of your bone health will determine whether or not you can.
Implants need a certain amount of available bone for proper placement. But bone loss, a common consequence of missing teeth or dental disease, can reduce bone volume to less than what's needed to place an implant. The patient may first need to undergo grafting to regenerate the bone or choose another restorative option.
If your supporting bone is sound, your dentist might then proceed with the implant. But you will still have to wait a while for your new crown. The implant needs to integrate with the bone to improve its hold. This integration process can take anywhere from a minimum of six weeks to more commonly twelve weeks. After the attachment is mature, the dentist may need to undo the gum covering before taking impressions for the formation of the new crown.
But it is possible to have a tooth or teeth in a day. For a single tooth, your dentist may be able to immediately attach a crown right after implant surgery if the implant is very stable. Even so, this crown will need to be temporary, slightly shorter than a permanent crown so that it won't make contact with other teeth and put too much pressure on the new implant. After further healing from bone integration, impressions will be taken so that you'll receive your permanent crown shortly.
Immediate crown placement can allow you to have the cosmetic and limited functional benefit of a new tooth right from the start. If multiple implants are placed in one arch in a day, it's possible to have immediate teeth if enough implants are attached together with a temporary restoration.
This is different from a single implant replacing a single tooth and does create confusion for patients when they read about teeth in a day. Regardless, no final tooth crown can be placed at the time of an implant—only a temporary restoration.
If you would like more information on your options for dental implants, please contact us or schedule an appointment for a consultation. You can also learn more about this topic by reading the Dear Doctor magazine article "Same-Day Tooth Replacement with Dental Implants."